Yesterday I went to one of the shops that gives my wife nightmares, and me the despair for not having the money to spend in it like a mad man .
The shop is Calumet in Drummond St near Euston London , I resisted the urge to buy the thing i want but not need at moment , and just got some Filters and a Potra-cube for later use for Maltgeeks among other things.
When I got home I took my Pooch for the evening Walk and shoot – Usually when I do my daily photographing and in one garden I saw this flowers :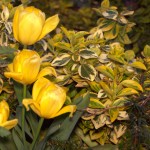 I took the photo as i was amazed how the light from the sunset mixed with the street lamp above made the Yellow of the petal stand out so much.