Posts Tagged 'plastic waste'
I am not sure if I talked about it already, and if I then there is no harm in talking about it some more.
I am disgusted by t the way people treat the country side as if it is their own rubbish bin and throw things that should go in to #recycling, it especially disturbs me when I cycle and see the amount of bottles and can are loitering the side of the road, and in some of the routes I ride the woods that are beside the road.
Several times after a ride I draft my #cycling buddy to help me collect those bottles and we load up the back seat of the car and I take those to a #recycling point or back to the refund stations (some bottles are eligible for a small refund , a way to try to encourage people to recycle), and the money goes for my kids saving account – it may not be much for each bottle but they have gained several hundred shekels each so far.
Some time I take my son with me on a trip to the woods for the sole purpose of cleaning up the bottles and he gets the money all to himself, as he is doing the work, he should get the reward without splitting the money with his sister.
Sadly the places that are the worse with the amount of loitering are along side the motorways and cleaning those (the municipality/government responsibility) is dangerous and thus almost never done.
Enter Yom Kippur … for those of you who are unfamiliar with it, this is one of the holiest days in the Jewish year, where we atone for the last year sins and faults we did to other people. Part of that tradition in Israel is that we do not drive.
The roads are empty. 
For the kids it is national #cycling day and parents allow their kids to drive on the road and stay late – as there are no cars to become a safety issue (not to mention that it reduces the pollution almost 90% for that day), and many adult cyclist use it for long rides along main roads .
I one the other hand decided that it would be the perfect night to go on a cleanup ride, the goal, ride along the main motorways and collect as many bottles and cans as I can find and fit in my trailer. I tried to recruit some of my friends for this ride but all of them bailed out on me, in the end I went out alone – after the kids have gone to sleep, and started cycling, I did something I do not do on any normal day, I put on my headphones and started a playlist.
Many of the people that saw me riding with a child carriage were puzzled, thinking a child was in the back but not bothered to ask me what I was doing, I cycled for 22.5km (14 miles) and ended up with a full trailer.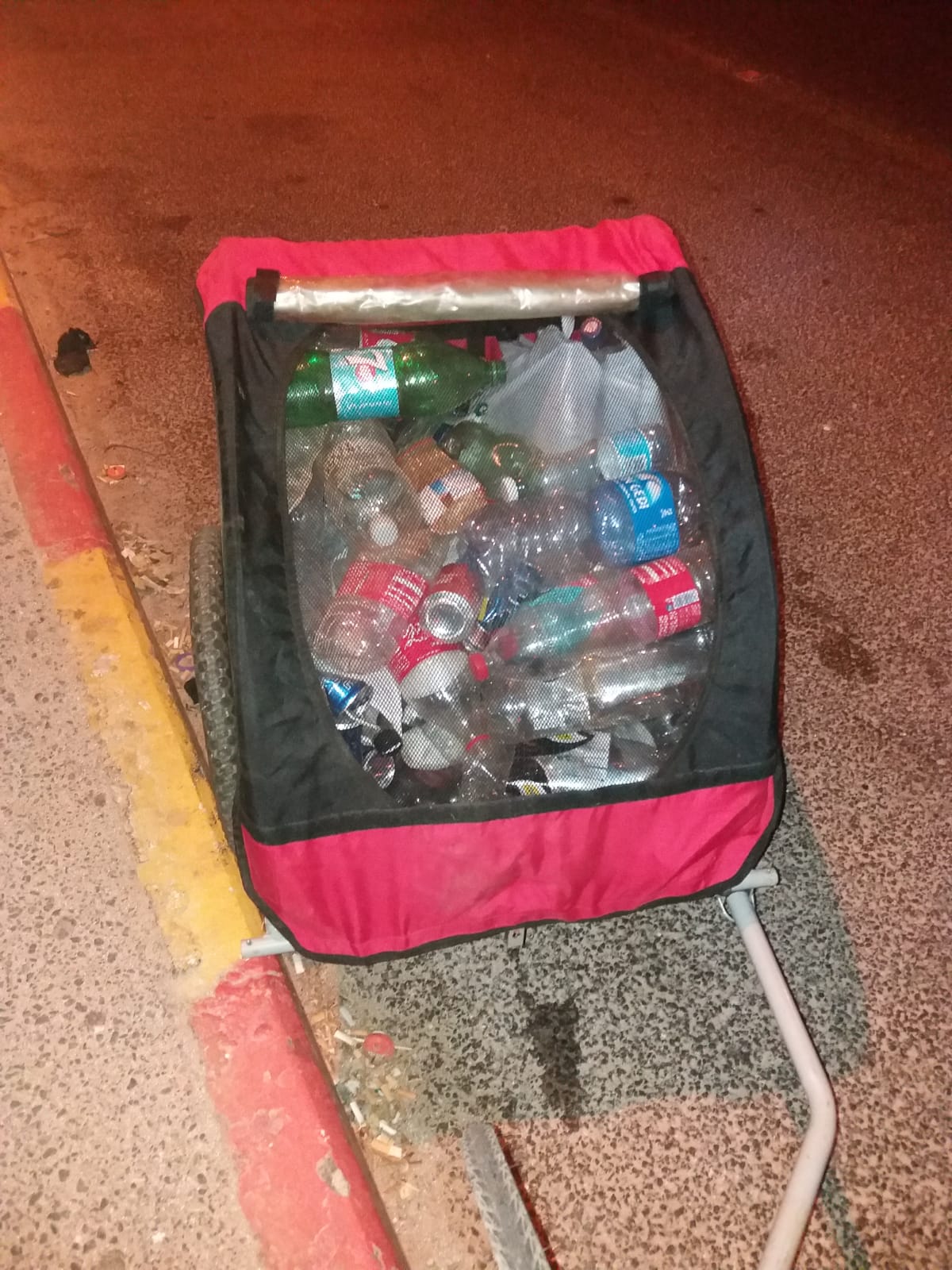 And then is was time to head home.
I hope to make this an annual event, and that in the next year more people will join me and we can clean more roads.