August 2022 came and at the start of it I packed all my riding gear and headed to England to participate in the LEL2022, I read many comments in the forums on what to bring with me and what to take on the ride and my head was so confused so I packed a lot of stuff.
One thing I did as a preventive measure was to not send any bottles or supplements, instead I ordered them from the UK provided I use and had it send to my friends house so I didn't have to pay for shipping.
I started the morning of the weekend  by heading to the Airport and seeing the sunrise over the plane that will take me to the UK.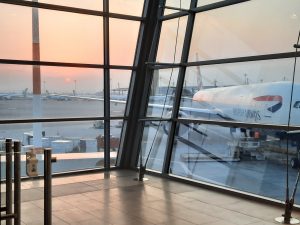 The flight went OK and I had a bit of a scare when the over-size baggage station in Heathrow airport was unmanned when I arrived and I feared that my bike was lost, It was only a short break the person took and when he came back he proceeded to bring out the bike case.
Breathing calmly now I made my way into London and once I got to my friends house I went on assembling the bike and making sure everything is ready for the event, I packed the items i wanted for the drop bags and made sure to go over the bags again to ensure I am not missing anything – as you can understand the paranoia of forgetting something was very high.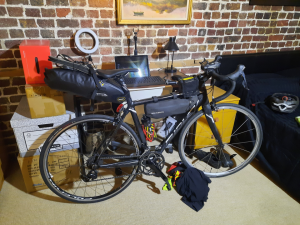 The next day I made my way to the registration ( also known as the start/end point) and followed the lines of the registration, it went smooth and I chatted with the other rides lined up with me.
When I got my card and number ( K34) I noticed some funny irregularities – on my Brevet card it listed my nationality correct, but on the bike registration card it stated I am from Ireland, I went to the organisers and thanked them for the "upgrade".
I finished all my prep and headed back to my friends house to rest and get ready for the morning, I checked the time table for the DLR and Tube that will take me to the start and was relieved to see I will have plenty of time before set off.
Sunday Morning 
I woke up at 6 AM anxious and excited, decided to have my breakfast at Debden and went to the DLR station, only to find out that the information I was given was wrong – first train at my stop is not at 06:28, but 06:42 so now I  am  behind on my schedule.
The train arrived and i made the change in Stradford  running to catch the tube to Debden station only to find out i am on the wrong branch, so I had to wait at the platform for the right on which would arrive in 12 minutes .
I arrived at Debden station at 7:38 and my set-off time is 8 AM, I needed to rush to the start line (thankfully this section i was already on my bike and did not rely on anyone else) , so i got on the bike with other riders and we headed to the start.
We arrived at 07:55 and I had a choice between making my start time or breakfast …. I headed to the start and lined up in my group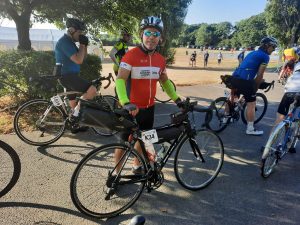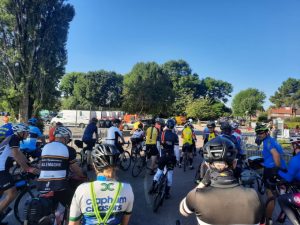 We started on time and it felt like a valve opened, all the pent up anxiety and trepidation were out and only the excitement and desire to ride remained.
We started heading out to the hills surrounding Debden and formed into some smaller groups, as I did not come with a group and was riding "alone" I tried to draft one of the groups and get some help while making acquaintances, the pace that some of the riders set was brisk and in some segments too fast for me so I was dropped back to groups that started in time slots behind me, which didn't bother me one bit, as I was "riding my numbers" – aiming to keep a 24km/h average.
The day got hotter as we progressed and once we were out of the London hills it became flat – The Ferns, a stretch of  about 80km of flat roads with almost no shade and a constant slight headwind, at about 80km from the start i had my first stop in a bus stop for some food and rest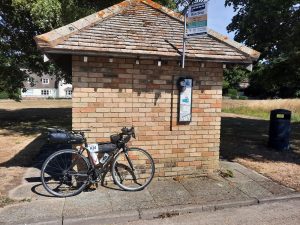 Riders went by me as I enjoyed the short stroll and drink, the temp on the Garmin showed we had 31c, It felt a bit cooler, maybe due to the wind or the lack of humidity in that area. I climbed back on the bike and kept on my way to St. Ives , as we neared the control point the first of the de-tours would happen – turns out the road a head had an unplanned closure and we had to find an alternate route,  I joined a group and we explored back routes till we found our way back to the official route, ( I think we added another 5 k to the ride – thankfully no elevation ), and then we reached the 1st control point – 100 (official) km done (12:52). Looking at my times – I was bang on schedule – even a bit a head of my times, so I allowed my self a short food break, refilled the water bottles, stamped my brevet card and back on the bike we were – Next stop Boston ( the original – not the copy in the US).
This is when the rolling hills started to come, nothing too demanding but on-going for a long while, the scenery was beautiful and I stopped to take some pictures,
at one town along the way I stopped in a square under a tree to rest and drink, a lovely lady whose house was just beside the green saw me and offered a cold drink and to refill my bottles, I was so embarrassed by her generosity and  hospitality that I thanked her multiple times, and she said that I am welcome to stop and say hello on the way back. As i got on the bike I managed to latch on to a group that was riding my pace and we made it to the Boston Control point together , 189 (Official ) Km, Done. Again a quick food break, water filling, card stamping  (18:01 ) and off we were, we had 60km left on the first day's agenda
The hills came much thicker and faster in this last planned section for this day and the legs started to complain: gels , energy and protein bars were the main source of food for the day and they proved to help even when the hills came on, at 20:35 darkness fell,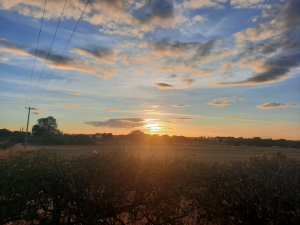 after the steepest climb of the day, me and many more riders resigned and walked up that hill , all joining the "not ashamed" club gleefully. Going down that hill into Louth is where it stared to get risky, the night was upon us, the route was under trees with no lighting ( we all had torches on the bikes but still ….) , I managed to miss a turn and had to climb back up a steep section to resume the route to the control point, and my legs were "hinting" that they wanted some rest.
At 21:43 I made it to the Louth control point, 242 (official ) km done – Garmin stated  248km. I parked the bike and settled for a night's food and rest.
I wanted to have a solid night rest to be able to continue for the 2nd day tomorrow, so I asked for a 5 AM wake-up, I tried to ask about the other Israeli rider from the volunteer team, but was unable to get anything, once I charged my phone I got the sad news  that he had to abandon due to technical issue.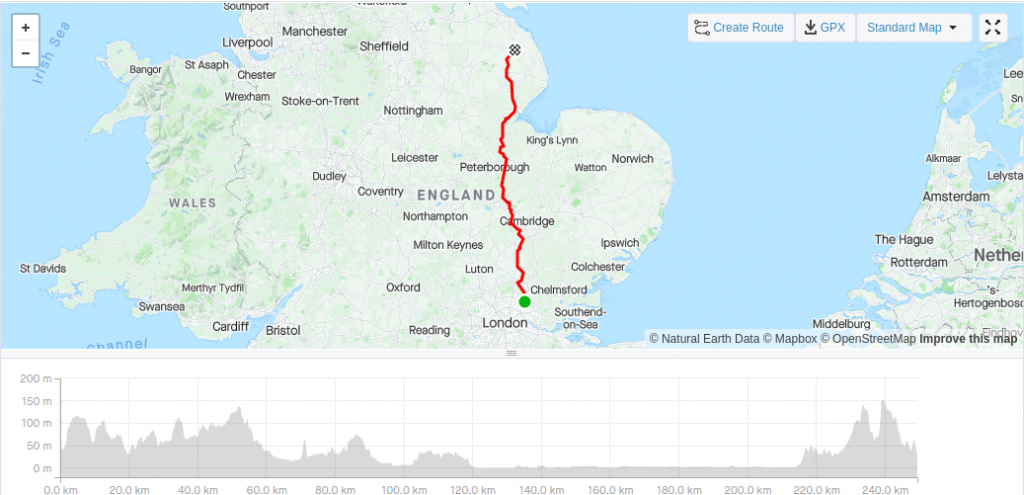 ….So we are still stuck with the COVID-19 virus, Yay :-( !!
And to add insult to injury the kids have started the school summer break, Are you effing kidding me ? the school year was barely a 4 month of school and now they need 2 more month of not doing anything, that is just brilliant way to help this generation advancing their study.
Things are not changing much in my space, again a job change, this one of my design, I really liked the position and the impact I was having on the company, but there were 2 factors that "drove" me out:
The company decided to move to a full work at the office ( 5 days a week), which for me was a big NO.
The person I worked under was a micromanager, and was poor in listening – I tried to ask him for some training and push my ideas in our 1-on-1 meetings and for 4 month got no where. On month 9 of my work there I had a talk with HR and raised that issue, and all of a sudden he is willing to let me speak in meetings.
So after the 1st item came up I reached the conclusion that it is time to go,they hired another person and I went to work for a consulting company. They seem to like my services but they are doing thing in a very badly managed way.
Training is going slow – the heat is not conductive to training and the time in the morning is divided between kids and the new K9 – Shugi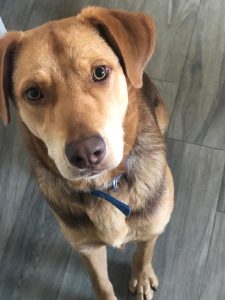 He is a wonderful dog and very friendly.
The last thing that threw me to a spin was that my old company ( pre-Covid) started hiring for my old position, obviously I want back but now need to see how this will pan out.
Oh, and I started my PADI IDC course training ….
Since the Covid-19 struck, I have been in turmoil both in the home front and the work side.
The company I worked for was involved in the public transport and as the world embraced the lockdown and physical distancing the public transport industry has gone to a forced hibernation, which in turn had many companies, including the one I worked for lay off personnel.
I have the misfortune to be one of these people that found themselves with out work and I have been interviewing and searching for more then 2 month now.
It gave me some time to study, but as the time to find a job is becoming longer my motivation to study and do things wains and I suspect the depression of not securing a job will come in soon.
Last week I interviewed for a company, and in the beginning I was hesitant about the position, but the more I delved into the details and it's requirements the more intrigued I became in the job and I find myself anxious to here from them to see if I progressed to the next stages.
So, lets hope.
As a side note – since the lockdown put a serious hindrance to my training for the LEL2021 , I resumed my training three weeks ago with simple 30Km rides (with some moderate hills to see how I cope), which was ok, this weekend I tried to push myself and did a 30km lap of a route while pushing to shorten the time, I managed to shave 12 minutes from the lap I did with my ride partner, and then I added another 20km of slow ride just to put some more time in the saddle.
I am happy with the progression, but I have a L O N G  way ahead of me to be ready for next year. No rest for the foolish.
It has been a year since I last posted here and SO much has happened I am not sure where I can start.
I'll start with some good news, my bid to participate in the LEL2021 has been accepted and I am excited and nervous about it as it will be a ride like I've never done before, for the 2 of you that read this, follow the link and understand the madness of it.
In other stuff, Yum Kippur is nearly here again and I am planning to do another night ride where I collect discarded plastic bottles, drinking cans and Glass bottles from the side of the road in an attempt to make the roads cleaner and help keep our planet and environment habitable a little longer, and I managed to convince a friend to join me for both things.
The kids are growing up and that is wonderful/troublesome/frustrating/amazing ( take what you want) and each day is a new one with it's little surprises and quirks, and by the end of it all i want to do is collapse and rest, but not every day I get to do that.
I had my Shinsa (martial arts exam) for Sho-dan ( first degree black belt ) in Aikido , that happened 2 weeks after I dislocated my knee, so the exam itself was shorter then planed as I had problems standing or walking or anything not involving sitting or laying down and I could not reschedule the exam due to out side factors. Well, all's well that end's well.
We had a trip to the New Forest in the south of England, and the kids were so happy, it felt like coming home in a way: running outside, playing, watching horses roam free in the towns and meadows, it made me miss our life in the UK even more.
I hope to resume writing here, or at least more frequently, now that I am going back on a training plan… time will tell.
I am not sure if I talked about it already, and if I then there is no harm in talking about it some more.
I am disgusted by t the way people treat the country side as if it is their own rubbish bin and throw things that should go in to #recycling, it especially disturbs me when I cycle and see the amount of bottles and can are loitering the side of the road, and in some of the routes I ride the woods that are beside the road.
Several times after a ride I draft my #cycling buddy to help me collect those bottles and we load up the back seat of the car and I take those to a #recycling point or back to the refund stations (some bottles are eligible for a small refund , a way to try to encourage people to recycle), and the money goes for my kids saving account – it may not be much for each bottle but they have gained several hundred shekels each so far.
Some time I take my son with me on a trip to the woods for the sole purpose of cleaning up the bottles and he gets the money all to himself, as he is doing the work, he should get the reward without splitting the money with his sister.
Sadly the places that are the worse with the amount of loitering are along side the motorways and cleaning those (the municipality/government responsibility) is dangerous and thus almost never done.
Enter Yom Kippur … for those of you who are unfamiliar with it, this is one of the holiest days in the Jewish year, where we atone for the last year sins and faults we did to other people. Part of that tradition in Israel is that we do not drive.
The roads are empty. 
For the kids it is national #cycling day and parents allow their kids to drive on the road and stay late – as there are no cars to become a safety issue (not to mention that it reduces the pollution almost 90% for that day), and many adult cyclist use it for long rides along main roads .
I one the other hand decided that it would be the perfect night to go on a cleanup ride, the goal, ride along the main motorways and collect as many bottles and cans as I can find and fit in my trailer. I tried to recruit some of my friends for this ride but all of them bailed out on me, in the end I went out alone – after the kids have gone to sleep, and started cycling, I did something I do not do on any normal day, I put on my headphones and started a playlist.
Many of the people that saw me riding with a child carriage were puzzled, thinking a child was in the back but not bothered to ask me what I was doing, I cycled for 22.5km (14 miles) and ended up with a full trailer.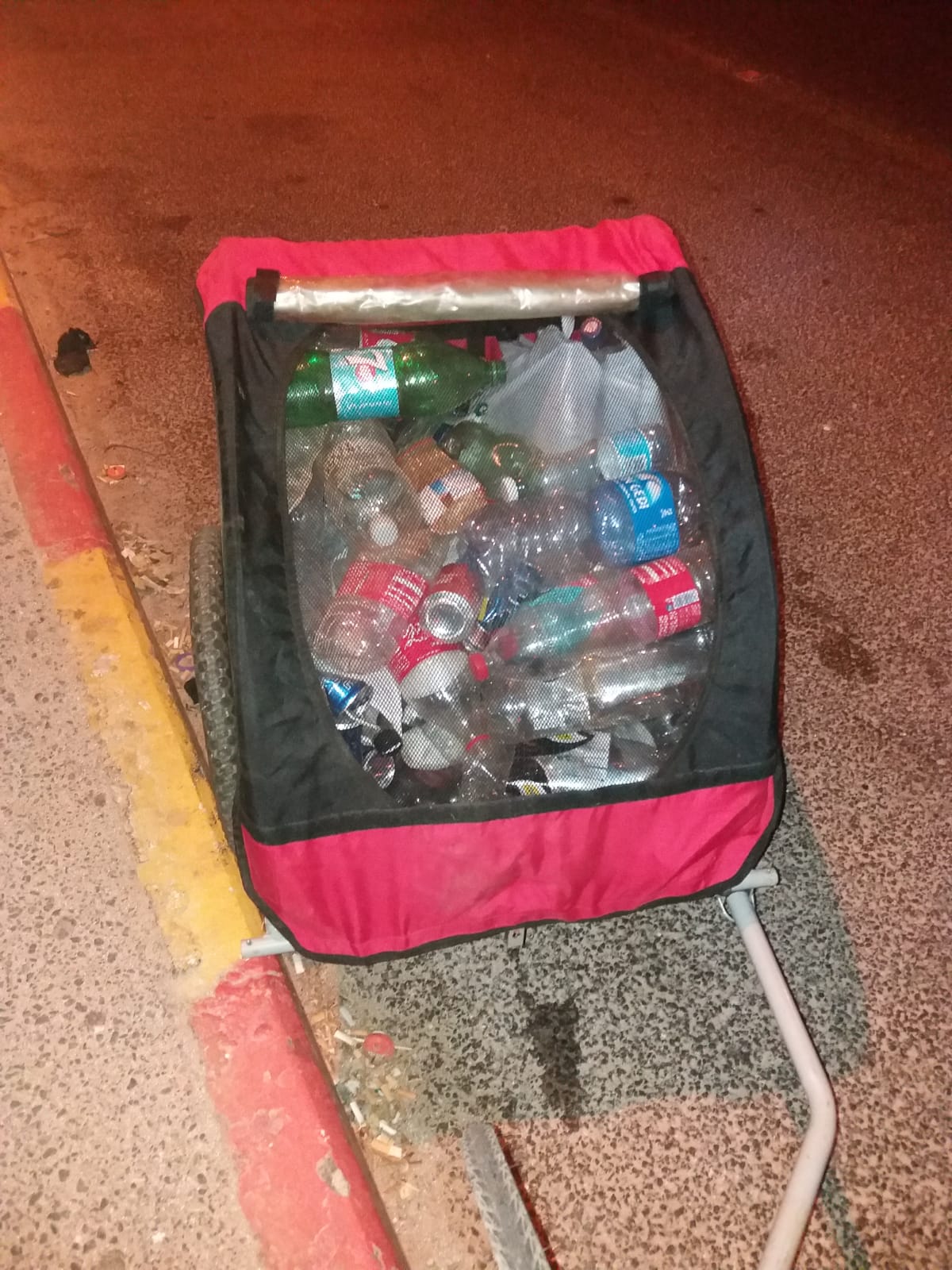 And then is was time to head home.
I hope to make this an annual event, and that in the next year more people will join me and we can clean more roads.
During the weekend I've participated in the Glasgow to Edinburgh Challenge ride , for me this was closing a circle .
As last year I considered this ride the starting point of the training for the L2P , completing this event today was my inner way of closing this chapter and moving on.
This years ride was along the same route as last year but the weather was not as accommodating with winds and some rain , I had a much easier time with the physical aspect , but also it was a one long cycling trail as we were told there we 16,000 ( yes ,you are reading correctly) rides taking part in the event .
This caused the entire length of the path to be full of riders and also in some place made overtaking the slow rides difficult ( and some time down right dangerous ) as the morons where riding two abreast and blocking the path, and if you wanted to go past them, you had to move in to the car's lane.
So , as this is the last entry regarding the L2P cycling and related activities , the Blog will change it's focus in the coming weeks , But do keep coming back as this will be the place to hear about my next Failed saving Throw.
After the dismal performance in the Iain Rennie Challenge I decided to reevaluate my fitness on the bike and set my training regime a new , and get my fitness back .
I seem to have forgotten that most of my training was when i cycled to work in west London , but now that I no longer work for that employer I no longer ride to work .
So in order to resume my training I've decided to set a new course and use it , so I selected the A4164 from Hemel to Leighton Buzzard .
It is a 45k ride and has some nice hills to add some difficulty to the ride. It also has some very badly maintained roads on some sections , so that is not much fun .
I did my first ride this last Sunday , my time in total was not good , nearly 2 hours for a 44k ride , but as it is a new base ride to start from , I should no be too hard on myself …should I ?
Today I took part in the Iain Rennie Chiltren Cycle challenge , the goal of it is to raise money for a hospice and nurses.
There were 3 options 10 ,35 and 75 mile routes (16 ,51 and 125 km ), I signed up for the 75 mile ride .
When the envelope with all the details arrived , I had my first doubt about what I signed up for , the route like a serrated knife skyline , with climbs of 600 feet (200 m ) and more in many places, but I decided to go ahead with it .



The start of the ride was good and I had a good pace , I was hoping to have an average pace of 20 km/h (13 mp/h) and in the first 2 hours I did , then the hill climbs got harder and harder and the day got hotter and I found my pace falling and my energy failing .
At the 60 km mark , I refilled my water and tried to find out if there is a snack spot any time soon ,but the road marshals did not know, that spot also was the point where if one wanted he can change route and join the 35 mile course, beside myself and 2 others I saw , all went for the shorter course.
As I started the second part I felt my power leaving me and I had to walk up many of the hills along the way , my km/h dropped to about 10 , (6 mp/h) , and eventually I found myself unable to continue .
Encouraged by a road marshal remark I braved the next 10 K and reached the 80K mark ( 50 M), there , beside the marshals was a Pub !!!
I left my bike with the marshals and zombied ( to say I walked would be stretching it) as hardly had any energy left), I got in the pub and asked for the fastest food they had , it turned out to be a Toast , I asked it to come not toasted , I wolfed it down ,I think there was Egg in it , still I ate it. I also took 4 slices of bread with butter and after that went back to attempt to resume the ride . As I looked at the watch it was already 2PM , and the closing time for the event was 4:30 , quick math told me I would not make it .
I through in the towel and got a ride to the finish line with the Marshall's.I was so out of energy that even with 4 layers I was shivering and barely standing .


So out of the 75 miles I set out to do I managed 50 , Challenge … Forfeited.
Today I got of my lazy A%$ and decided to join the social rides of the Hemel Hempstead Cycling club, So I geared up and went to the meeting place at the scheduled time . I arrived about 3 minutes ahead and waited till the others will come.

when the time was 9:10 and i was still the only one at the meeting point , I decided to head out and ride alone , I picked a heading and with no set path started pedaling , eventually I did the Ashridge route which was a 28+ km ride – mostly hills and narrow roads.
I recorded this ride on my sports tracker application and uploaded it only to find out that the GPS started calculating the route 3 km into the ride Ashridge ride so it shows only a part of it … suits me right :-)